Free Consultation
If you or a loved one think you may have a claim, you should contact a personal injury lawyer immediately.
You may be entitled to recover compensation and our legal team can help. Please click the button below for a Free Consultation or call us toll-free 24 hrs/day for legal advice by dialing (866) 588-0600.
Extracting and utilizing natural gas from the Appalachia Basin is challenging and risky. One of the major concerns is the occurrence of oil rig accidents that can harm workers and the environment.
As a legal professional with almost a decade of experience in the oil and gas industry, I know the complexities of handling such cases. In this article, I will discuss the common causes of oil rig accidents in the Appalachia Basin and provide an overview of the steps that victims can take in the event of an accident.
Quick Summary
The Appalachia Basin is a sedimentary basin in the eastern United States with abundant oil and natural gas reserves.

Oil rig workers face high-risk working environments, leading to common accidents, including fire/explosion injuries, transportation hazards, falls, broken bones, and more.

Affected workers may be eligible for compensation through legal action or worker's compensation. Our experienced lawyers are available to provide a free lawsuit evaluation.
What is the Appalachian Basin?
Appalachian Basin is a vast sedimentary basin located in the eastern region of the United States. It is also called the Appalachian Basin Province.
This area has diverse plant and animal life and a rich cultural heritage spanning centuries. Additionally, the region is abundant in natural gas reserves [1].
The natural gas in this region is produced by gray, brown, and black marine shale, contributing to the natural gas produced in the region.
Therefore, the Marcellus Shale, the Utica Shale, and the Point Pleasant formations are the key contributors to the region's oil and gas resources.
The Appalachia Basin is spread over several states, such as:
New York

Pennsylvania

Ohio

Maryland

Tennessee

Kentucky

West Virginia

Alabama

Parts of Georgia
The discovery of oil in the Appalachian Basin dates back to 1859 at the Drake Well in Venango County, PA. This oil was formed from terrestrial sedimentary deposits and shallow sea environments [2].
In recent years, the Appalachian Basin has been estimated to contain 214 trillion cubic feet of recoverable natural gas, 1.8 billion barrels of oil, and 985 million barrels of natural gas liquids [3]. 
Drilling operations are currently concentrated in the Tri-State Area, consisting of Ohio, West Virginia, and Pennsylvania. This area is receiving the majority of the focus right now.
The drilling facilities in the region primarily employ unconventional wells, utilizing horizontal drilling techniques. However, these facilities' age and environmental impact have become increasingly apparent.
Despite these challenges, the Energy Information Administration (EIA) predicts that the Appalachian basin production will surge to 50 Bcf/day by 2050 [4]. However, the journey is not without its hurdles.
Commodity price volatility poses a significant economic risk for shale operators in the Appalachian Basin, affecting the profitability of extracting technically recoverable continuous resources. 
Moreover, unconventional oil and gas exposure in the basin, often involving hydraulic fracturing, raises concerns about the integrity of the Appalachian Basin formations and the potential risk to drinking water.
Related Article: Oil Rig Injury Accident Attorney
Common Oil Rig Accidents
Understanding the common oil rig accidents in the Appalachian Basin requires peeling back the layers of complex operations. Fire and explosion injuries top the list, posing threats of burns, smoke inhalation, and other physical injuries. 
The transportation of resources is another potential hazard. Accidents can occur due to collisions between vehicles, slips and falls, and other incidents involving vehicles. But the list doesn't end here.
The common thread binding these accidents is oil and gas extraction's inherent risk and uncertainty. The combination of heavy machinery, volatile substances, and challenging working conditions creates a high-risk environment.
Read Also: Leading Causes of Oil Rig Explosion
Potential Oil Rig Injuries
A spectrum of injuries often marks the aftermath of an oil rig accident.
Oil rig accidents can lead to:
Falls

Broken bones

Loss of limbs

Respiratory problems due to chemical exposure

Cuts

Scrapes

Bodily burns
These incidents can occur in various geological settings, including areas with metamorphic and igneous rocks. But these are just the tip of the iceberg.
More severe injuries can include:
Broken bones

Back injuries

Severe burns

Traumatic brain injuries

Neck injuries

Punctures

Lacerations

Permanent disfigurement or disability
Related Article: Texas Oil Rig Accident Lawyer
Who Is Liable In a Drilling Rig Accident?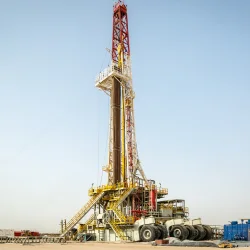 Those liable in a drilling rig accident are the oil company, contractors, and equipment manufacturers. The legal framework ensures these responsible parties are held accountable for injury compensation.
The oil company is responsible for providing a safe working environment as the employer. They must comply with safety regulations, provide adequate training to workers, and maintain equipment to prevent accidents [5].
Similarly, equipment manufacturers must produce safe, reliable, and efficient equipment. Faulty or malfunctioning equipment can result in severe accidents, making the manufacturer potentially liable.
Maintenance providers, who ensure that all machinery and equipment are in good working order, can also be held liable if their negligence leads to an accident.
"If a manufacturing defect in the equipment causes the accident, the injured oil rig worker may file a personal injury lawsuit against the manufacturer, seeking compensation."
- Gregory Herrman, Personal Injury Attorney at Herrman & Herrman, PLLC
What Should I Do After an Oil Rig Accident?
After an oil rig accident, you should seek medical attention, regardless of the severity of your injury.
You should then report the incident to the Occupational Safety and Health Administration (OSHA), the authority responsible for overseeing workplace safety in the United States.
Collecting visual evidence, such as photographs of the accident scene, witness statements, and medical records, can help support your case if you decide to pursue compensation.
Consulting with an experienced attorney specializing in oil rig accidents is also recommended, as they can guide navigating the legal complexities.
Related Article: Complete List of Oil Refineries in Texas
Laws Applicable to Drilling Rig Accidents
Oil and gas drilling accidents are subject to both federal and state laws. Federal regulations such as the Clean Air Act, the Clean Water Act, and the Safe Drinking Water Act are applicable [6]. Meanwhile, states primarily regulate drilling and production activities.
The Occupational Safety and Health Act (OSHA) is a key federal law for oil rig accidents. This law establishes and enforces workplace safety and health standards, ensuring employers provide their personnel with a secure and healthy work environment.
Compensation laws are also significant because they offer benefits to workers who have been injured during work. These benefits include medical care, recompense for lost wages, and other forms of compensation.
Related Article: How Does the Jones Act Affect the Oil Industry?
Compensation for Oil and Gas Drilling Accidents
Compensation for oil and gas drilling accidents can provide a vital lifeline for injured workers and their families.
It can help cover:
Medical expenses

Replace lost wages

Compensate for pain and suffering
The amount of compensation available can depend on several factors, including the severity of the incident, the extent of the worker's injuries, and the company's insurance policy.
Workers' compensation benefits are another potential source of compensation. The state provides these benefits which can include medical care, a portion of lost wages, and disability benefits.
Related Articles:
FAQs
What Are The Oil Field Workplace Safety Rules?
Oil field workplace safety rules are designed to protect workers from potential risks and ensure they operate in a secure environment. These rules involve wearing the appropriate safety gear, following safety protocols, and complying with safety regulations.
What Are The Major Accident Hazards In The Oil And Gas Industry?
The major accident hazards in the oil and gas industry include toxic releases, slips, trips, falls, and contact with objects and equipment.
What Happens If You Fall Off A Rig?
If you fall off a rig, you can suffer injuries like fractures, amputations, cuts, and lacerations. In certain situations, a fall can even result in drowning.
Contact Our Experienced Lawyers For A Free Lawsuit Evaluation
Dealing with the aftermath of an oil rig accident can be a challenging and overwhelming experience. That's why having the right legal representation to guide you through seeking compensation is essential.
At Schmidt & Clark, LLP our experienced lawyers are here to help. We offer a free lawsuit evaluation to assess the merits of your case and provide you with the guidance you need to pursue justice. 
Contact us today to schedule your free consultation and take the first step towards recovering from your oil rig accident.
---
References:
https://pubs.er.usgs.gov/publication/ofr6228#:~:text=The%20Appalachian%20basin%20is%20an,New%20York%20to%20central%20Alabama

.

https://certmapper.cr.usgs.gov/data/noga95/prov67/text/prov67.pdf

https://www.usgs.gov/news/national-news-release/usgs-estimates-214-trillion-cubic-feet-natural-gas-appalachian-basin

https://www.eia.gov/todayinenergy/detail.php?id=49876

https://www.osha.gov/workers/employer-responsibilities

https://www.doi.gov/oepc/preparedness-and-response-oil-spills-and-hazardous-substance-releases