Free Confidential Lawsuit Review
If you or a loved one was injured on an offshore oil rig, you should contact our legal team immediately. You may be entitled to just compensation by filing a lawsuit for medical treatment and an experienced attorney who understands maritime law can help. Please click the button below for a Free Consultation or call our injury attorneys for legal representation toll-free 24 hrs/day by dialing
(866) 588-0600
.
Why Are Oil Rig Explosions So Common?
Oil rig workers face grave dangers because of their occupation. Oil drilling is a dangerous job that creates many potential hazards, and several different factors could cause a full-blown disaster. The most catastrophic disaster that can occur is an explosion. Unfortunately, oil platforms have a high risk of fire or explosion—even though water surrounds them.
Between the high use of electricity and fuel to run faulty equipment, a tiny spark, unsafe practices, and hazardous substances could have a devastating consequence for offshore workers on board.
Related Article: Oil Rig Injury (Lawyers & Lawsuits Info)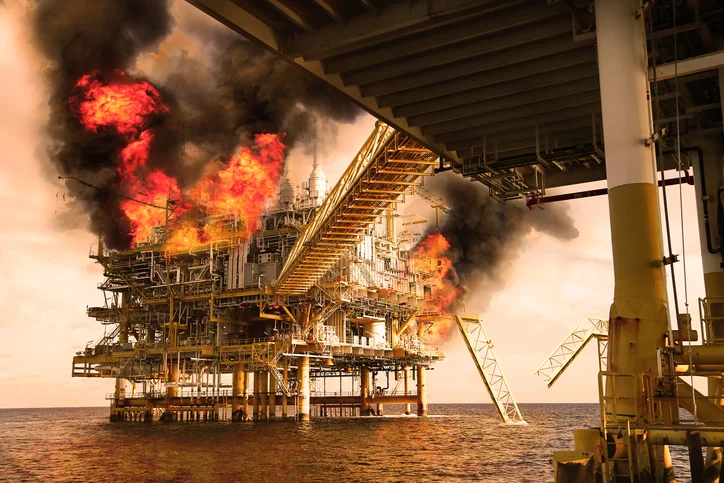 Causes of Oil Rig Explosions
1. Fires
Fires are some of the most inherent dangers associated with oil work, according to the Occupational Safety Health Administration (OSHA). All it takes is an equipment failure or a small spark from an acetylene torch to come into contact with the gas or oil, and a massive rig explosion and never-ending fire are underway. The uncontrolled release of fuel keeps the fire burning, with little chance of stopping it or of escaping.
Of those two elements, the fire poses the greatest risk to the offshore worker drilling natural gas wells. This is especially true for offshore heavy machinery platforms used to drill for natural gas and oil. These platforms serve as storage facilities for the flammable fuels they dig for until the vessel returns to shore.
2. Blowouts
Blowouts on oil rigs occur from uncontrolled releases of flammable materials from a drilling rig. Before pressure systems were designed to prevent blowouts, they occurred regularly and were often called gushers. Today, blowouts happen when the rig's blowout preventer meant to control the pressure fails. A spark can turn a blowout into a catastrophic fire.
Blowouts don't usually happen without warning. Before the blowout, a kick might occur when the pressure balances off. If the offshore workers fail to control the kick, then a blowout is likely to follow.
Related Article: Whar Are Oil Rig Blowouts?
3. Equipment Failures
Even with modern advancements, the pressure control systems and other defective equipment used on oil rigs aren't safe. To reduce the risk of drilling mud, employers need to enforce safety regulations, proper safety protocols, and regular maintenance in every area of the job. Drilling on oil rigs is especially hazardous in comparison to other types of drilling.
The locations are farther away from help when something goes wrong. Working offshore often means sending in helicopters to send nearly a third of offshore workers to the hospital. The time this takes turns minor injuries into more serious ones.
Equipment failure has the potential to cause explosions in two ways. It can cause sparks that cause fuels to ignite. It can also fail to work and prevent carrying out a safety measure to prevent or lessen the impact of an explosion.
4. Negligence
Negligence can occur in many ways and by different people. Cutting corners on equipment, failing to follow a safety program or perform routine maintenance, and using tools for things other than their intended purpose are just some of the ways that other claims occur.
In the past, the average person didn't know anything about oil rigs or the potential risks that workers coped with every day. Today, major occurrences like Deepwater Horizon have brought the potential for disastrous occurrences into the public eye. Hopefully, this will help make employers more stringent about following regulations and keeping workers safe.
It isn't just the employer that can be guilty of negligence. The offshore worker who doesn't follow safety procedures, the companies that make the drilling platform, and anyone else who has a role in the process can be at fault. Even if the employer wasn't aware of the standard, they can be found negligent if their actions or inactions resulted in an incident that injured and/or killed someone else.
Everyone who works on an oil rig in any position needs a better understanding of how an oil rig explosion happens. Learning, regulating, and enforcing safety guidelines can help prevent other claims. One thing these companies can count on is that when an incident occurs, investigators will be there to determine who was negligent and how it contributed to the devastation.
5. Electricity
Electrical tools are a common sight on a drilling platform. It's important to use devices with approval for offshore platforms as a matter of safety.
The use of tools like a blowout preventer should be limited to those most dangerous jobs they were designed for and kept in good shape. Failing to keep an oil line in good condition or having broken wires can lead to sparks.
6. Handling Combustible Fuels
Handling and storing gas and oil is naturally a dangerous situation. When it isn't done according to the procedure, it becomes a much greater hazard. It's easy to think of explosions as serious accidents.
But sometimes explosions and fires occur because a person is negligent. They might not see the risk of lighting a cigarette when no one is watching. There are also those instances where fires occur due to the intentional acts of another person. In either case, the resulting injuries are personal injuries caused by another person's negligence or intent.
What Kind of Injuries Occur from Offshore Oil Rig Explosions?
Oil rig explosions can lead to life-altering and permanent injuries. Workers can suffer from a variety of injuries as a result of oil rig explosions:
First, second or third-degree burns
Back and neck injuries
Hearing loss
Traumatic amputation
Death
This is not an exhaustive list of injuries that offshore workers can suffer from. Discussing your situation with a legal expert will give you or your family the best shot at recovery.
Related Articles:
Deepwater Horizon Disaster
On April 20, 2010, the Deepwater Horizon, an offshore drilling platform owned by Transocean Limited, exploded killing 11 workers and injuring over 100 more.
The explosion occurred while working offshore in the Gulf of Mexico about 40 miles southeast of Venice, Louisiana in an area known as the Macondo Prospect. The Deepwater Horizon explosion left the rig burning and caused it to list badly to one side. A day later, the Deepwater Horizon rig had slipped beneath the surface of the ocean, leaving a massive environmental disaster in its wake.
On May 13th, 2010, Transocean filed a petition in U.S. District Court to limit its liability for the explosion to just over $26 million dollars, the value of the Deepwater Horizon disaster as it currently sits one mile under the surface of the sea. The strategy sought to take advantage of the 150-year-old Limitation on Liability Act, which was created at a time when the modern insurance industry did not exist.
If Transocean had been successful in limiting its liability to the current value of the rig and its cargo, the company could have profited over $350 million from the Deepwater Horizon tragedy.
To avoid public criticism for attempting to deprive workers on oil rigs and their families of damages that they could recover in a lawsuit, Transocean filed its limitation petition with maritime law the day after its corporate representatives appeared before Congress for a hearing regarding the April 20th explosion.
Related Articles:
Investigating the Causes of Oil Rig Explosions
After an oil rig explosion, all hands will be on deck to uncover the nature of the explosion; in essence, every action will be taken to determine what caused the disaster. Drilling executives, Coast Guard officials, Ocean Energy Management, and a slew of other industry professionals will immediately begin investigating the causes of oil rig explosions.
At this time, victims of the explosion need to make sure that they have a legal representative doing the same for them. Only when a lawyer builds a strong case on their behalf do victims of oil rig explosions stand a chance of being adequately compensated.
More invested in their profits, drilling companies will spend large sums of money on the attorneys that have been chosen to represent them in the aftermath of an accident.
Any amount of money paid for legal representation will pale in comparison to the amount that could be owed. As such, these companies are willing to go to great lengths to avoid paying out the sums that could come from a personal injury lawsuit.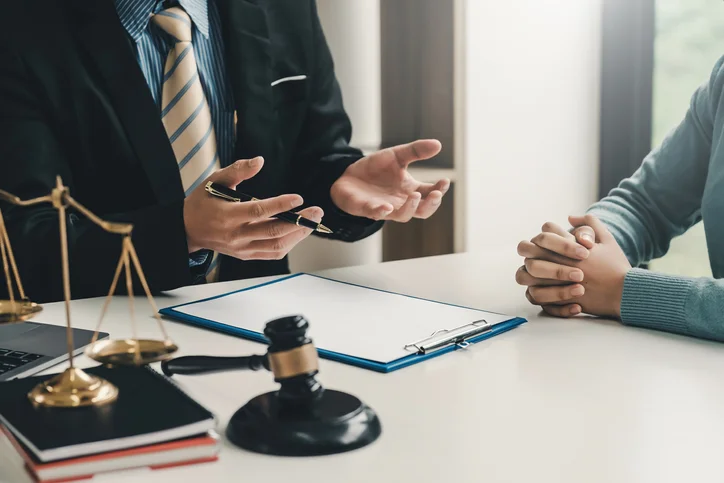 Why You Need an Experienced Offshore Oil Rigs Injury Attorney
If you were injured in an offshore oil rig explosion, you may be able to get help from a qualified legal team. During a free consultation, the law firm of Schmidt & Clark, LLP, can help you determine your next steps.
Get your employer to pay for maintenance and recovery
When seeking the help of a specialized marine injury attorney, he or she will act as your representative in dealing with your employer and the marine insurance company.
Your attorney will contact your employer and require that you begin making maintenance and recovery payments immediately. When they find out what they owe, most maritime employers start paying on time once they receive a lawsuit from an experienced attorney.
Your attorney can also evaluate the number of your employer's benefits to determine if your company owes you more. Further, an offshore oil rig explosion lawyer can help you determine what other legal rights for monetary damages you deserve under the law.
Force your employer to constitute for your past benefits
In addition to forcing your employer to pay for future maintenance and recovery, your attorney may request payment, possibly in a lump sum, of your past-due benefits. Your employer does not have the right to avoid payment simply because you chose not to treat it in good faith.
An experienced maritime attorney will know how to calculate past due recovery and maintenance benefits and will ensure that you receive your full Jones Law entitlement.
Fight for additional financial compensation
Finally, in addition to guaranteeing maintenance and recovery payments, your attorney will also be able to assess whether you are entitled to additional compensation for Jones Act negligence or dangerous conditions on an unsafe vessel [1].
Because maintenance and recovery benefits are limited, it is critical that all injured seamen get an attorney to review the specifics of their case. We can help you determine if unsafe conditions were caused by another company and contributed to your injuries. Your attorney can obtain full compensation for all your losses.
Related Articles:
See all personal injury claims we've taken on.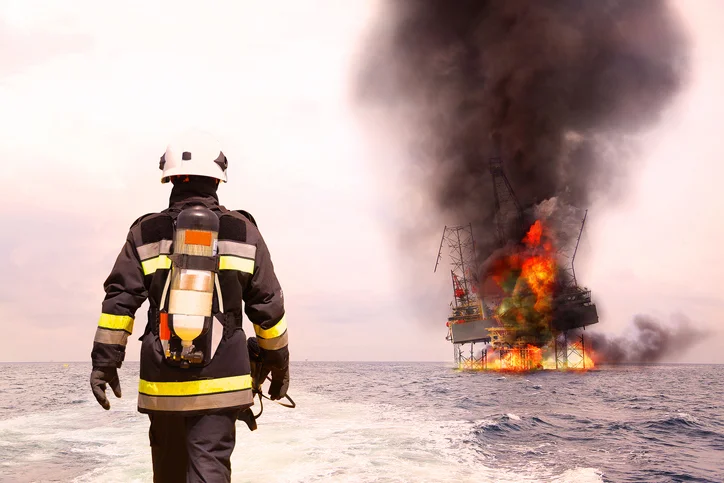 Get a Free Lawsuit Evaluation With Our Attorneys
The law office of Schmidt & Clark, LLP, is dedicated to protecting the rights of the American oil and gas worker and is one of the only firms willing to handle this type of complex litigation throughout the entire United States.
Again, if you or a loved one has been seriously injured or killed in an oil rig accident, you should contact an oil rig accident attorney immediately by using the form below or calling us toll-free 24 hours/day by dialing (866) 588-0600 for a free consultation.
You may be able to recover compensation for lost wages from an oil company in a lawsuit and our oil field injury lawyers can help.