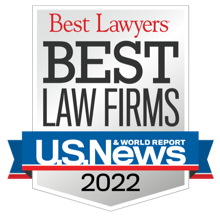 U.S. News & World Report Best Lawyers – "Best Law Firms"
Schmidt & Clark, LLP is proud to of been voted as one of the Best Law Firms of 2022. The "Best Law Firms" rankings are based on a combination of client feedback, information provided on the Law Firm Survey, the Law Firm Leaders Survey, and Best Lawyers peer review.
The Best Lawyers in America
The Best Lawyers in America was first published in 1983. Since then, the same tried and tested peer review process has been used consistently for more than thirty years. The Best Lawyers in America rankings are based on a combination of client feedback, information provided on law firm surveys, the law firm leaders survey, and Best Lawyers peer review.
Super Lawyers
Only 5% of the lawyers in America are even eligible to recive this nomination and Schmidt & Clark, LLP has been selected 19 years in a row. Super Lawyers selects attorneys using a patented multiphase selection process. Peer nominations and evaluations are combined with independent research. Each candidate is evaluated on 12 indicators of peer recognition and professional achievement. We are once again, honored to be listed as a Super Lawyer.
The National Trial Lawyers – Top 100 Trial Lawyers
The National Trial Lawyers: Top 100 is an invitation-only organization composed of the premier trial lawyers from each state or region who meet stringent qualifications as civil plaintiff trial lawyers. Selection is based on a thorough multi-phase objective and uniformly applied process which includes peer nominations combined with third-party research. Membership is extended only to the select few of the most qualified attorneys.
American Association for Justice – Leader's Forum
For over 70 years, AAJ has successfully defended Americans' right to trial by jury and continues to fight every day to protect our practices, our clients' rights, and our civil justice system.
American Board of Trial Advocates
ABOTA is a national association of experienced trial lawyers and judges. ABOTA is an invitation-only organization. Members must have at least five years of active experience as trial lawyers, have tried at least 10 civil jury trials to conclusion and possess additional litigation experience. Members must also exhibit the virtues of civility, integrity and professionalism.
American Institute of Personal Injury Attorneys – 10 Best – Attorney Client Satisfaction
The "10 Best" is a prestigious honor for the Attorney as each Attorney must: (i) Be formally nominated by the Institute, client, and/or fellow Attorney; (ii) Have attained the highest degree of professional achievement in his or her field of law; and (iii) Having done so with an impeccable Client Satisfaction rating.
Million Dollar Advocates Forum
Established in 1993, the Million Dollar Advocates Forum is one of the most prestigious groups of trial lawyers in the United States. Membership is limited to attorneys who have won million and multi-million dollar verdicts and settlements. Fewer than 1% of U.S. lawyers are members.
Law Dragon 500
The annual Lawdragon 500 Leading Lawyers in America is the most elite distinction in the profession, covering the best of the best in all practice areas. The list is presented online and in the Annual Print Magazine, which features the best lawyers in the industry.
International Society of Barristers
One of the most prestigious honors as a trial lawyer is to be a member of the ISOB. No lawyer may apply for membership in the Society. New Fellows are elected by the Society's Board of Governors and only after careful vetting, is one voted into the organization.
AV LexisNexis Martindale Hubbell Peer Review Rated
For more than 130 years, Martindale-Hubbell has been evaluating attorneys for their strong legal ability and high ethical standards through a Peer Review Rating system. AV Preeminent®: The highest peer rating standard. This is given to attorneys who are ranked at the highest level of professional excellence for their legal expertise, communication skills, and ethical standards by their peers.
International Academy of Trial Lawyers
Another extremely prestigious honor is to be a part of the IATL. The Academy is a group of truly elite trial lawyers representing both sides of the Bar: prosecutors and defense lawyers in criminal cases, and plaintiffs' and defense counsel in civil litigation (including business and personal injury cases). While the majority of the Fellows come from the U.S., the Academy includes lawyers from more than 30 countries. Fellowship is by invitation only, and trial lawyers are invited to become Fellows only after an extremely careful vetting process.
American College of Trial Lawyers
The American College of Trial Lawyers (ACTL) is composed of preeminent members of the Trial Bar from the United States and Canada and is recognized as the leading trial lawyers organization in both countries. Fellowship is extended only by invitation, after careful investigation, to those experienced trial lawyers who have mastered the art of advocacy and whose professional careers have been marked by the highest standards of ethical conduct, professionalism, civility, and collegiality. Although there are currently more than 5,800 Fellows across the U.S. and Canada, membership can never be more than 1% of the total lawyer population of any state or province.
American Bar Association
Founded in 1878, the ABA is committed to advancing the rule of law across the United States and beyond by providing practical resources for legal professionals, law school accreditation, model ethics codes and more.
Best Lawyers – Lawyer of the Year
"Lawyer of the Year" from Best Lawyers, as mentioned above, also includes additional recognitions awarded to individual lawyers with the highest overall peer-feedback for a specific practice area and geographic region. Only one lawyer is recognized as the "Lawyer of the Year" for each specialty and location.
Best of the Best Attorneys – Top 10
This honor is reserved for those lawyers who exhibit excellence in their practice. Of the 1.3 million attorneys practicing in the United States less than .05% of attorneys will receive this distinction. Selection to this list provides independent third-party validation of you as an attorney and your practice. New clients can be assured that they are hiring the absolute Best of the Best!