Free Confidential Philips CPAP Machine Recall Lawsuit Review
If you or a loved one was injured by Philips CPAP machines, and you are in need of legal assistance, don't hesitate to contact our law firm as soon as today.
You may be entitled to compensation by filing a Philips CPAP Machine Recall Lawsuit, and our lawyers can help. Please click the button below for a Free Confidential Case Evaluation or call us toll-free 24 hrs/day by dialing (866) 588-0600.
Update: Philips Recalls Trilogy EVO Ventilators Over Foam Health Risks
Philips Respironics has issued another recall [1] for its ventilators over potential health risks associated with polyester-based polyurethane (PE-PUR) sound abatement foam.
Specific devices affected by this recall include:
Product Names:
Trilogy Evo ventilator
Repair kits for Trilogy Evo muffler assembly*
Model Numbers:
Trilogy Evo ventilator model numbers with certain serial numbers as listed in the recall database: DS2110X11B, KR2110X15B (not distributed in the U.S.)
Repair kits for Trilogy Evo muffler assembly model and lot numbers as listed in the recall database: Part number 1135257, Lot numbers between 210414 and 210524
Manufacturing Dates: April 15, 2021, to May 24, 2021
Distribution Dates: April 15, 2021, to May 24, 2021
Devices Recalled in the U.S.: 215 Trilogy Evo ventilators; 51 Trilogy Evo repair kits
Read More: Trilogy EVO Ventilators Lawsuit
"The polyester-based polyurethane (PE-PUR) sound abatement foam, which is used to reduce sound and vibration in these affected devices, may break down and potentially enter the device's air pathway," FDA said. "If this occurs, black debris from the foam or certain chemicals released into the device's air pathway may be inhaled or swallowed by the person using the device."
This FDA Class I Recall began on December 21, 2021.
Philips Recalls CPAP Machines Over Cancer Risk
The Philips Respironics ventilator machine voluntary recall was initiated to address potential health risks related to volatile organic compounds in the polyester-based polyurethane (PE-PUR) sound abatement foam component in the Philips Respironics devices, according to an FDA safety communication [2].
"Despite a low complaint rate (0.03% in 2020), Philips Respironics determined based on testing that there are possible risks to Philips CPAP users related to this type of foam," FDA said. "The risks include that the polyurethane foam may degrade into particles which may enter the mechanical ventilators BIPAP and CPAP air pathway and be ingested or inhaled by the user, and the foam may off-gas certain chemicals. The foam degradation may be exacerbated by the use of unapproved cleaning methods, such as ozone, and high heat and high humidity environments may also contribute to foam degradation."
Philips sleep apnea machines are breathing devices that help treat sleep apnea symptoms, and they are prescribed to patients with sleep apnea to keep their airways open during sleep.
Philips Respironics Ventilators BIPAP and CPAP move air in and out of a patient's lungs, and it is used when a person is not able to breathe enough on their own.
Which Philips Sleep Apnea Devices Were Recalled?
DreamStation ASV
DreamStation ST
DreamStation Auto BIPAP and CPAP machines
DreamStation BiPAP Sleep Apnea Machines
DreamStation Go
Trilogy 100 and 200
Aeris LifeVent
Philips Ventilator
Side Effects
Philips Respironics has received reports of possible patient impact due to foam degradation in recalled CPAP machines.
The potential health risks of particulate exposure in a defective medical device include:
Headache
Irritation
Inflammation
Chest pressure
Respiratory issues
Toxic effects
Cancer (carcinogenic effects)
Other health issues
Potential risks of chemical exposure due to medical device off-gassing include:
Headache
Irritation
Hypersensitivity
Nausea/vomiting
Sinus infection
High blood pressure
Toxic effects
Carcinogenic effects
Related Articles: Rhode Island Philips CPAP Lawyer Info
Philips CPAP Lawsuit Filed in Massachusetts
A class-action CPAP lawsuit has been filed in Massachusetts alleging that Philips Respironics knew about the risks associated with the inhalation/ingestion of polyester-based polyurethane (PE-PUR) foam from its CPAP machines long before the recall.
The complaint further alleges that patients who used the recalled Philips sleep apnea machine have complained to Philips Respironics about black particles in the recalled devices for years, but the company did not warn the public about the hazards until late April and did not recall its CPAP machines until June 14.
What Should I Do if I'm Using a Recalled Philips CPAP Machine?
Philips is advising patients to discontinue the use of their breathing devices and work with their doctor or medical device provider to determine the most appropriate options for continued treatment.
Patients who need to continue using their device and have no alternative should consult their physician to determine if the benefit of continuing therapy with the recalled Philips devices outweighs the risks identified in the CPAP recall notification.
What Should I Do if I'm Using a Recalled Mechanical Ventilator?
Patients who require life-sustaining mechanical ventilator devices should continue to use Philips breathing machines until they talk to their doctor about alternative treatment options.
In situations where alternatives are unavailable, the benefit of continued usage of the mechanical ventilator machines may outweigh the risks identified in the recall notification.
Risks of Using Ozone and Ultraviolet (UV) Light Products for Cleaning CPAP Machines
The FDA, on Feb. 27, 2020, issued a warning [3] about the risks associated with using ozone gas or ultraviolet (UV) light products that claim to clean, sanitize, or disinfect CPAP machines and accessories.
"The FDA has received reports from patients experiencing cough, difficulty breathing, nasal irritation, headaches, asthma attacks, and other breathing complaints when ozone gas-based products were used to clean, sanitize or disinfect CPAP machines and accessories," the agency said.
UV light may be used to disinfect surfaces in a setting where UV light does not escape to the surroundings. If products generating UV light do not shield the user from exposure, they pose a potential health hazard depending on the wavelength, intensity, and exposure time.
How Much Settlement Compensation for CPAP Lawsuits?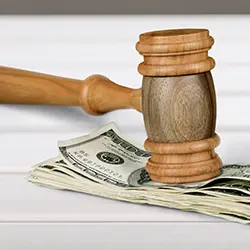 The Philips CPAP litigation is still in its very early stages, so it is still uncertain as to how these Philips CPAP machine recall lawsuit claims will play out.
Also, the injuries in these claims vary significantly. The most serious injuries are likely to be cancer, organ damage, and respiratory problems.
For Philips CPAP machine lawsuits, the average settlement compensation payouts for medical bills should be between $100,000 and $500,000, with the trial value being significantly higher if liability can be established.
Plaintiffs' lawyers are now seeking an MDL class action, asking the U.S. Judicial Panel on Multidistrict Litigation (JPML) to consolidate all federal court CPAP claims in federal court in Pennsylvania.
Philips now concedes that an MDL class action is appropriate, but argues that the cases should be consolidated in Massachusetts.
Do You Qualify for a Philips CPAP Machine Recall Lawsuit?
Anyone who used recalled CPAP devices and suffered serious health problems or those who lost a loved one because of these injuries may be eligible to file a CPAP Lawsuit.
Injuries included in potential Philips CPAP machine lawsuits include:
Acute Respiratory Distress System (ARDS)
Bladder Cancer
Brain Cancer
Breast Cancer
Chemical Poisoning
Heart Attack
Heart Failure
Hematopoietic Cancer
Kidney Cancer
Kidney/Renal Damage
Kidney/Renal Disease
Leukemia
Liver Cancer
Liver Damage
Liver Disease
Lung Cancer
Lung Damage
Lung Disease
Lymphatic Cancer
Multiple Myeloma
Nasal Cancer
Non-Hodgkin Lymphoma
Papillary Carcinoma
Pleural Effusion
Prostate Cancer
Reactive Airway Disease (RAD)
Rectal Cancer
Respiratory Failure
Severe Ear Inflammation
Severe Nose Inflammation
Severe Throat Inflammation
Stomach Cancer
Testicular Cancer
Thyroid Cancer
Related Articles:
See all related medical ddevicelawsuits our attorneys covered so far.
What are Obstructive Sleep Apnea Lawsuits Alleging?
The recall of the Philips CPAP devices has already prompted product liability lawyers to file class action lawsuits for people who used these devices and suffered adverse health consequences.
More Philips CPAP Machine recalls lawsuits are expected to follow because there is evidence that Philips was fully aware of the health risks and defects associated with the PE-PUR foam and failed to warn consumers.
Philips was aware of the problems with foam inhalation in its sleep apnea machines for years before it issued its recall in June 2021.
Users of the recalled sleep apnea machines had been complaining for years about "black particles" in their lungs and similar issues.
Despite being aware of these issues for years, Philips did not make a public safety announcement until April 2021 and the recall didn't come until June 2021.
Even more troubling, Philips appears to have deliberately delayed the timing of its recall to coincide with the release of its "next-generation" sleep apnea products that supposedly do not have the foam inhalation problem.
Questions an Attorney May Ask
When you contact a lawyer about your potential Philips CPAP machine injury case, they may ask you questions about your experience with your CPAP machine.
Make sure you gather medical records, medical bills, receipts, and any other documents to answer questions with as much detail as possible.
Which Philips sleep apnea machine did you use?
This litigation involves breathing devices included in the Philips CPAP machine recall. Make sure you know the brand and model of your machine.
If you aren't sure if your breathing machine is a recalled Philips CPAP machine, the attorney can help you figure it out.
Did you keep your recalled Philips CPAP machine?
It's important to keep your recalled Philips machine for evidence in a potential case.
Your lawyer can help you keep the machine if your supplier is asking you to return it.
What serious injuries are you experiencing from your Philips CPAP device?
Tell the lawyer about any serious side effects your doctor diagnosed you with, especially serious breathing problems, organ damage, or cancer.
Have your medical records handy to answer questions.
What symptoms did you experience?
Your lawyer will want to know if you experience any symptoms related to inhaling particles of toxic gas from sound abatement foam.
This may include breathing problems, headaches, dizziness, or other medical problems.
Repair and Replacement Program
Philips will replace the current sound abatement foam on affected devices with new material as quickly as possible, FDA said.
As part of the Repair and Replacement Program, the first-generation CPAP product families will be modified with a different sound abatement foam and shipped upon receipt of the required regulatory clearances.
Philips's next-generation CPAP platform, DreamStation 2, is not affected by this recall.
To support the Repair and Replacement Program, Philips is increasing the production of its second-generation CPAP devices, which are currently available for sale in the U.S. This recall began on June 15, 2021.
Other CPAP Recalls
Fisher and Paykel CPAP Nasal Prong: May 23, 2014 - Fisher and Paykel issued an FDA Class I Recall for its Fisher & Paykel CPAP Infant Nasal Prong medical devices after the company received at least 24 reports of the prongs detaching from the nasal tubing during use. When this occurs, therapy is likely to be interrupted, leading to an increased risk of low blood oxygen (hypoxemia).
"The detached prongs may enter the baby's mouth, causing choking and/or airway obstruction," FDA said. "Use of this device may cause life-threatening health complications, including death."
Get a Free Philips CPAP Machine Lawsuit Evaluation With Our Lawyers
The Medical Device Litigation Group at Schmidt & Clark, LLP law firm is an experienced team of trial lawyers that focus on the representation of plaintiffs in a Philips CPAP machine lawsuit. We are handling individual litigation nationwide and currently accepting new Philips CPAP machine recall cases in all 50 states.
If you or a loved one was injured by a recalled Philips CPAP machine, you should contact our law firm immediately. You may be entitled to a settlement by filing a lawsuit, and our lawyers can help you receive fair compensation.