Free Consultation
If you or a loved one think you may have a claim, you should contact a personal injury lawyer immediately.
You may be entitled to recover compensation and our legal team can help. Please click the button below for a Free Consultation or call us toll-free 24 hrs/day for legal advice by dialing (866) 588-0600.
A car accident can result in a hefty financial burden that may even reach the thousands. Additionally, medical bills are prone to skyrocket depending on your injuries' severity.
As a personal injury attorney who has worked on similar cases, I will tell you all you need to know about the average hospital bill after an accident.
Quick Summary
By law, anyone responsible for bodily injury or property damage must pay the compensation.

The injured person may be eligible to pursue a personal injury claim against other responsible parties for the accident and potentially seek reimbursement for all surgery costs and doctor's bills.

It doesn't matter who's at fault in the accident - your health insurance will always provide coverage up to its predetermined limit for medical treatment by experienced medical providers. 
What Do Car Accident Medical Bills Include?
Car accident medical bills include services that you need after your accident.
Hospital expenses encompass the following services and treatments:
Ambulance Service
Emergency Room
Testing
Surgery
Future Expenses
What Are Common Surgeries After a Car Accident?
The financial burden of undergoing surgery, inpatient or outpatient, is immense.
The most frequent operations needed after car and motorcycle accidents include:
Knee surgery
Back surgery
Plastic surgery
Brain surgery
What Is the Average Medical Bill After a Car Accident?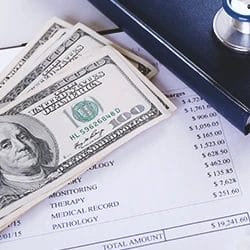 The average medical bill after a car accident can vary depending on the severity of the injuries sustained and the treatments administered. 
Minor injuries can cost up to $3,000, while major surgeries may cost hundreds or more.
Overall, medical expenses related to accidents can be expensive and overwhelming, so it is important to prepare for them as best as you can. A motor vehicle accident could easily result in medical expenses that add up to tens of thousands, if not more. 
On average, a hospital stay would be around $4,000 per day - and for severe injuries, you might have to stay put there much longer than anticipated or even need physical therapy [1].
Related Article: Car Accident Lawsuit & Lawyer Info
What Factors Can Impact Your Hospital Bill?
Factors that can impact your hospital bill include if you have insurance coverage, if you were a pedestrian, or if you don't have insurance.
In addition, the severity of your injury and the length of your stay at a hospital can also influence how much you will pay.
You Own Insurance
Certain states have adopted the "no-fault" insurance system, where regardless of who is to blame for an accident, your own policy insurance company will cover medical bills up to its no-fault limit.
The minimum amount covered by insurers is $5,000; however, this number may increase depending on your enrolled plan.
Someone Else's Auto Insurance Company Insures You
Living with a relative can come with many perks, like being covered under their insurance for medical benefits! With this policy in place, you will be reassured that your health needs are taken care of.
You Are a Passenger in an Insured Vehicle
Suppose you've been involved in an accident while riding as a passenger. In that case, the other driver's insurance company policy should cover any medical expenses associated with that incident- even if your own insurance doesn't apply.
You Are a Pedestrian
If you are a pedestrian hurt in an auto crash and have no insurance or another person's policy to cover your medical costs, the automobile at fault for the accident could be made accountable for paying any expenses.
You Are Injured While Working
In the unfortunate event, you experience injury in an accident during your working hours. You are eligible for workers' compensation. Rest assured that your primary insurance provider is actual workers' compensation.
Your Medical Bills Exceed Your Insurance Policy Limit
With medical bills regularly surpassing insurance policy limits, it is vital to remember to give your medical provider your private health insurance information as soon as you begin treatment- even if all medical costs are initially covered by automotive coverage.
If you are an uninsured driver, your financial responsibility is to cover whatever costs your insurance does not. An uninsured coverage occurs when the at-fault driver does not carry liability insurance.
Fortunately, if you didn't cause the accident, you can still recuperate the cost of all medical bills incurred from the at-fault driver through either an accident settlement or a court case.
How to Pay All Your Medical Bills After a Car Accident?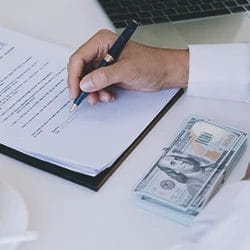 To pay all your medical bills after a car accident, you can either create payment plans with the hospital or have it covered by insurance.
Your insurer will typically pay all or part of the bill depending on your plan type and how much coverage they offer. 
Some states, however, have laws that help with that. For example, California law requires hospitals to add discounts and create reasonable payment plans [2].
While personal injury protection on an insurance policy may cover some costs, it is not always enough. It's also worth looking into what type of health insurance you have, as this might provide coverage for certain bills.
Unfortunately, the at-fault driver's insurance company may be unhelpful or present a minimal settlement that pays the medical bills of other injured parties; however, they are unlikely to recompense for all losses.
Therefore you will have to make payment arrangements with your healthcare provider.
Pain and suffering, future medical care costs, and lost wages during recovery often go unnoticed by many insurance companies in serious car crashes.
That is why seeking legal action through a personal injury lawsuit might be your best option for obtaining full compensation for both physical and emotional damages.
Related Articles:
FAQs
How Much Do Most Car Accidents Cost?
Most car accidents cost about $3,000. This includes the cost of treatment bills and any property damage that was done in the crash.
Does Car Insurance Pay for Hospital Bills?
Yes, car insurance typically covers some or all of your hospital bills after a car accident. The amount covered will depend on your policy type and the extent of your injuries.
Who Pays Medical Bills in an Accident?
The ones who pay for medical bills in an accident are the at-fault driver's insurance company or yourself. If you have your own car insurance, insurance companies can help cover the accident costs and pay the treatment bills for the car accident victim.
Get a Free Lawsuit Evaluation with Our Lawyers Today
If you were hurt in a car wreck due to the negligence of another motorist, costly medical bills are likely an added burden. You can pursue compensation from the responsible party.
At Schmidt & Clark, our experienced personal injury lawyers fight for the car accident victim of an auto accident by seeking rightful compensation on your behalf. Let us be your passionate advocates, and contact us for a free consultation session today.
---
Reference:
https://www.debt.org/medical/hospital-surgery-costs/

https://www.insurance.ca.gov/01-consumers/110-health/60-resources/NoSupriseBills.cfm