Free Confidential Case Review
Free Confidential Lawsuit Evaluation: If you or a loved one has potentially been exposed to toxic fumes in a U.S. military burn pit, you should contact our law firm immediately for a free case evaluation. You may be entitled to compensation by filing a suit and our lawyers can help.
What is a Military Burn Pit?
A military burn pit is an area devoted to open-air combustion of trash. The use of burn pits was a common waste disposal practice at military sites outside the United States, such as in Iraq during the Persian Gulf War, in Afghanistan, and the Southwest Asia Theater.
Smoke from these open-air pits contained substances that may cause respiratory system health conditions, especially for those who were exposed for long periods or those more prone to illness such as individuals with pre-existing asthma or other lung cancer. Waste products in burn pits include, but are not limited to:
Chemicals
Paint
Medical waste
Hazardous waste
Metal/aluminum cans
Munitions and other unexploded ordnance
Petroleum and lubricant products
Plastics
Styrofoam
Rubber
Wood
Discarded food
Other toxic substances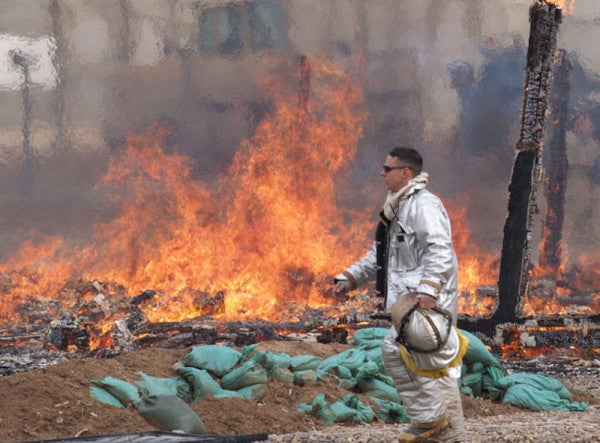 Department of Defense Acknowledges Burn Pit Dangers
The U.S. Department of Defense (DOD) is well-aware that burn pits are harmful and create airborne hazards. The official policy is that open-air burn pits are prohibited at military facilities unless no feasible alternative to get rid of waste exists. As of March 2019, at least nine U.S.-operated or military contractor-operated burn pits existed, including seven in Syria, one in Afghanistan, and one in Egypt.
What are the Symptoms of Exposure to Burn Pits?
Initial symptoms of exposure to toxic smoke from burn pits often includes:
Eye irritation and/or burning
Coughing
Throat irritation
Difficulty breathing
Skin itching
Rashes
These exposure symptoms often appear temporarily and resolve following initial exposure. However, open-air burn pit exposure on military bases in Iraq and Afghanistan for nearly a decade has caused long-term health concerns including:
Reduced central nervous system function
Reduced liver or kidney function
Stomach, respiratory or skin cancer
Skin lesions
Chronic bronchitis
Lung diseases
Cardiovascular conditions
Constrictive bronchitis
Autoimmune disorders
Crohn's disease
Infertility
Migraines
Throat infections
Eczema
Unexpected weight loss
Multiple sclerosis
Post-traumatic stress disorder
Other serious health effects
Cancers Linked to Burn Pit Exposure
Our law firm has conducted a further investigation into the potential link between burn pit exposure in Iraq and Afghanistan to the development of the following cancers:
Squamous cell carcinoma of the larynx
Squamous cell carcinoma of the trachea
Adenocarcinoma of the trachea
Salivary gland-type tumors of the trachea
Adenosquamous carcinoma of the lung
Large cell carcinoma of the lung
Salivary gland-type tumors of the lung
Sarcomatoid carcinoma of the lung
Typical and atypical carcinoid of the lung
Related Articles:
Burn Pits (Trash and Human Waste)
Proper disposal of waste during deployment is essential to prevent health problems and protect military service members. In certain situations, when sanitary and waste management facilities are not available, this waste may be burned in an open pit.
The main concern of service members is exposure to smoke from burning trash and feces. Burning solid waste may generate many pollutants including dioxin, particulate matter, polycyclic aromatic hydrocarbons, volatile organic compounds, carbon monoxide, hexachlorobenzene, and ash.
Health effects from burning waste smoke depend on several factors including the nature of the waste being burned, duration of exposure, and how close to the burning smoke an individual is. Service members who are actually burning the waste are at greater risk for possible health effects than those who may be in the vicinity of the smoke.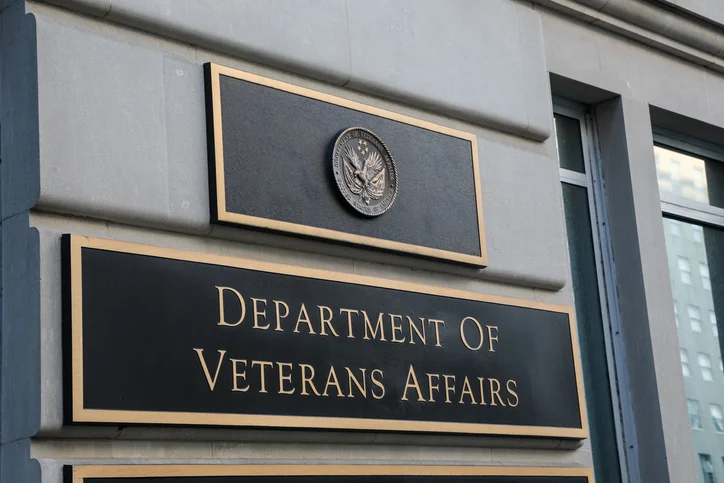 VA Burn Pit Registry
The U.S. Department of Veteran Affairs has recognized the health risks associated with burn pit exposure. On March 1, 2022, the Department of Veterans Affairs proposed adding several rare cancers (see above) to their presumed service-connected list as related to military burn pits.
To further study the link between burn pits and long-term health effects, such as respiratory conditions and cancer, the VA created the Airborne Hazards and Open Burn Pit Registry. Veterans and military personnel can document their exposure and health concerns in the registry.
Can Service Members File a Lawsuit Over Burn Pit Exposure?
The U.S. Department of Labor's Office of Federal Contract Compliance Programs established Protected Veteran status in 1974 to ensure eligible veterans are protected from discrimination based on their military service. This also means that if a veteran suffers a disability during his or her service, reasonable accommodations must be made to allow the veteran to work. The DOL states that all employers working with the federal government must comply with the regulations.
Protected Veteran status is based on four different areas. The Department of Labor classifies protected veterans as Disabled Veteran, Recently Separated Veteran, Armed Forces Service Medal Veterans, and Other Protected Veterans.
Disabled Veteran
"A veteran who served on active duty in the U.S. military and is entitled to disability compensation (or who but for the receipt of military retired pay would be entitled to disability compensation) under laws administered by the Secretary of the Department of Veterans Affairs, or was discharged or released from active duty because of a service-connected disability."
Recently Separated Veteran
"A veteran separated during the three-year period beginning on the date of the veteran's discharge or release from active duty in the U.S. military."
Armed Forces Service Medal Veteran
"A veteran who, while serving on active duty in the U.S. military, participated in a U.S. military operation that received an Armed Forces service medal."
Other Protected Veterans
"A veteran who served on active duty in the U.S. military during a war, or in a campaign or expedition for which a campaign badge was authorized under the laws administered by the Department of Defense."
Receiving VA Disability Benefits After Burn Pit Exposure
To receive disability benefits for a medical condition caused by exposure to a military burn pit, you must file an application with VA.  The application, along with supporting evidence, must show that you have a disabling condition and that a specific event in your military service—in this case, exposure to a burn pit—was the cause.
Burn Pit Class Action Lawsuit Denied by Supreme Court
More than 800 U.S. military veterans filed burn pit lawsuits against KBR (previously owned by Halliburton) and other contractors that operated burn pits overseas. The veterans claimed they were exposed to harmful fumes because of human waste and other materials incinerated in the burn pits.
The 4th U.S. Circuit Court of Appeals found that although KBR operated burn pits, the company was not liable for its actions regarding waste management because it was under military direction. The Supreme Court denied a subsequent appeal, ultimately ending the litigation against the private companies.
How Can Civilian Contractors Win Compensation for Burn Pit Injuries?
As a civilian contractor, you must file a claim using the Defense Base Act if you were harmed by burn pit exposure. Military personnel who were exposed to harmful smoke and other air pollutants can pursue a claim through Veterans Affairs. Neither group can sue the burn pit operator that was acting under a U.S. military contract.
The Defense Base Act is an extension of the Longshore and Harbor Workers' Compensation Act (LHWCA). It is a workers' compensation insurance system for certain federal workers.
The Defense Base Act specifically covers civilian contractors who work overseas under U.S. contracts. You may file a workers' compensation claim to receive medical, wage, and rehabilitation benefits if you were injured or contracted a disease because of your job.
Surviving relatives can file claims for death benefits.
Benefits Under the Defense Base Act
Through a workers' compensation claim under the Defense Base Act, you can receive medical, wage, and vocational rehabilitation benefits. When your claim is approved, the insurance covers all reasonable medical care by the doctor of your choice.
The amount of wage benefits you receive depends on your level of disability: temporary total (TTD), temporary partial (TPD), permanent total (PTD), or permanent partial (PPD). In most cases, you can receive two-thirds of your average weekly wage (AWW), up to a maximum weekly rate, or two-thirds of wages lost due to a partial disability.
We recommend working with us to pursue wage benefits. We make sure your insurance provider accurately calculates your AWW or wage loss. If this figure is miscalculated, you may not receive all the disability benefits you are entitled to.
Burn Pit Death Benefits
If your loved one was a civilian contractor and passed away from cancer or another work-related condition, you should contact our lawyers about pursuing death benefits. As a surviving spouse, you may be entitled to half their AWW if you have one child or two-thirds of their AWW if you have two or more children. You also can receive up to $3,000 for reasonable funeral expenses.
Related Articles:
See all related toxic tort lawsuits that we've covered.
Get a Free Burn Pit Exposure Lawsuit Evaluation With Our Lawyers
The Personal Injury Litigation Group at our law firm is an experienced team of trial lawyers that focus on the representation of plaintiffs in burn pit lawsuits. We are handling individual litigation nationwide and currently accepting new service-connected disability cases in all 50 states.
Free Burn Pit Exposure Evaluation: Again, if you or a loved one has potentially been exposed to toxins in a U.S. military burn pit, you should contact our law firm immediately. You may be entitled to a settlement by filing a suit and we can help.