Free Cook's Essentials Pressure Cooker Lawsuit Review
If you or a loved one had severe burn injuries or other injuries caused by faulty pressure cookers, you should contact our lawyers immediately about your potential case. Our lawyers are actively investigating electric pressure cooker explosions in all 50 states.
Please click the button below for a Free Cook's Essentials Pressure Cooker Lawsuit Consultation or contact our lawyers toll-free 24 hrs/day by dialing (866) 588-0600 if you were injured or someone you know suffered an injury from defective pressure cookers.
History and Evolution of Pressure Cookers
The pressure cooker, a kitchen marvel, traces its origins back to the 17th century when French physicist Denis Papin invented the "steam digester" to reduce cooking times. Over the decades, this rudimentary device evolved into the modern pressure cooker we recognize today.
In the 20th century, with the advent of aluminum and stainless steel, pressure cookers became lighter and more durable. Safety mechanisms, such as pressure release valves and locking lids, were introduced to address early concerns about a pressure cooker explosion.
Today's electric pressure cookers, with digital controls and multiple cooking functions, are a testament to how far this appliance has come, blending traditional cooking techniques with modern technology.
Related Article: Pressure Cooker Lawsuit Update
Pressure Cooker Safety Tips
Safety is paramount when using pressure cookers. To ensure a safe cooking experience, always inspect the rubber gasket for any signs of wear or cracks before use, as a compromised seal can lead to dangerous leaks. Ensure the vent or pressure release valve is clear of debris, which could prevent steam from escaping.
When opening the electric pressure cooker, always release the pressure fully and open the lid away from your face to avoid steam burn injuries. Never overfill the cooker, especially when cooking foods that expand, like rice or beans.
Regular maintenance, such as replacing worn-out parts and following the manufacturer's cleaning instructions, can prolong the life of your pressure cooker and ensure it operates safely.
Comparative Analysis
The Cook's Essentials pressure cooker model, popularized by the QVC home shopping network, is one among many in a competitive market. Brands like Instant Pot, Ninja, and Crock-Pot have their own versions, each with unique features. While Cook's Essentials boasts affordability and a range of color options, Instant Pot is lauded for its multi-functionality, combining several kitchen appliances into one.
Ninja's pressure cookers often integrate air frying capabilities, and Crock-Pot, a name synonymous with slow cooking, offers models that ensure even heat distribution. When choosing a pressure cooker model, consumers should consider safety features, capacity, ease of use, and additional functions to find the best fit for their needs.
What is the Cook's Essentials Pressure Cooker?
Cook's Essentials and Technique pressure cookers are brand names sold exclusively through the QVC Shopping channel.  The cookers are re-branded from various manufacturers including Fagor, Deni, Cuizen, Maxi-Matic, and IC Marks Inc.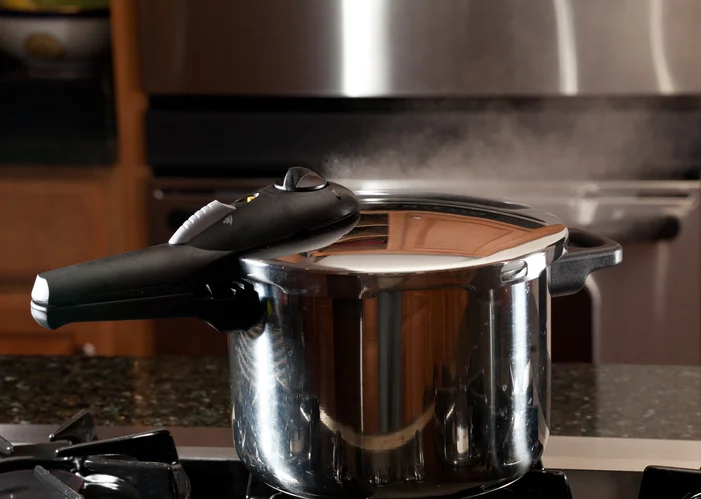 Injuries Occurred from Exploding Electric Pressure Cookers
Serious burns
Hot steam burns
Second-degree burns
Third-degree burns
Eye injuries and blindness
Scalds
Permanent scarring
Disfigurement
Emergency medical treatment
Kitchen and/or property damage
Illinois Woman Files Lawsuit After Pressure Cooker Exploded
A lawsuit has been filed by a woman who was severely burned by a Cook's Essentials Pressure Cooker she bought from QVC.
The lawsuit was filed by Theresa S., a woman from Illinois who was injured by a Cook's Essentials 6-Quart Electric Cooker (Model Number CEPC6005) on July 2, 2019.
Her injuries occurred due to the "pressure cooker's lid suddenly and unexpectedly exploding off the pressure cooker's pot," according to the lawsuit. The pressure cooker explosion caused its "scalding-hot contents to be forcefully ejected from the pressure cooker and onto the Plaintiff."
The consumer claims that the appliance is defective because the lid can be removed with normal force while the unit remains pressurized, despite the appearance that all of the pressure has been released.
Her lawsuit was filed against IC Marks Inc. and QVC Inc. (doing business as Cook's Essentials) on June 29, 2021, in the US. District Court for the Northern District of Illinois (Eastern Division) — Case Number 1-21-CV-03469.
Related Articles:
See all related product liability litigations our lawyers have covered.
Get a Free Cook's Essentials Pressure Cooker Lawsuit Evaluation With Our Lawyers
The Product Liability Litigation Group at Schmidt & Clark, LLP law firm is an experienced team of jury trial lawyers that focus on the representation of plaintiffs in Cook's Essentials Pressure Cooker Lawsuits. We are handling individual litigation nationwide and currently representing consumers in all 50 states.
Free Confidential Defective Pressure Cooker Evaluation: Again, if you or a loved one suffered serious burns or other serious injuries caused by an exploding pressure cooker, you should contact our law firm immediately for a free case review of your potential case. You may be entitled to recover damages and financial compensation for medical bills and lost wages by filing a Cook's Essentials pressure cooker lawsuit and a lawyer can help.