No matter what kind of legal issue you encounter, you have a right to expect a lawyer that will tirelessly fight for your rights.
However, it can be very frustrating if your lawyer is not fighting for you.
At Schmidt & Clark law firm, we've had a fair share of people looking for advice when their legal representation isn't behaving professionally or feel a lawyer is not fighting for them.
Here are all the signs that a lawyer is not fighting for you, as well as what to do in this situation.
Summary of the Key Findings
Attorneys have to follow set rules of behavior.

If you believe your attorney isn't acting in your best interest, there are several steps you can take.

Choose a lawyer in good standing, and an expert in their field, be it family law, malpractice suit, or some other area.
6 Signs That My Lawyer Is Not Fighting for Me

Lawyers have to follow the Rules of Professional Conduct [1].
"A lawyer is a representative of clients, an officer of the legal system, and a public citizen having special responsibility for the quality of justice. Lawyers, as guardians of the law, play a vital role in the preservation of society. The fulfillment of this role requires an understanding by lawyers of their relationship with and function in our legal system. A consequent obligation of lawyers is to maintain the highest standards of ethical conduct." Texas Center for Legal Ethics
Common signs that show an attorney is not fighting for you include:
Not interested in your well-being

— An attorney has to keep the client's interests in mind at all times. If you think your attorney isn't doing so, get a second opinion.

Avoiding phone calls

— If your legal counsel avoids communication with you, it's not a good sign. Most people aren't familiar with the legal system, so it's normal to have questions, and it's a lawyer's duty to answer them.

Doesn't inform you of new developments in your case

— This is one of the lawyer's main responsibilities. They have to inform you of settlement offers, new evidence, and any significant events. You should try to schedule regular meetings if you haven't heard from your lawyer in a while.

Doesn't provide good legal service

— When a lawyer is giving you bad advice, doesn't show up for hearings, or isn't prepared, it's a sign of a bad lawyer. 

Ignores your explicit instructions

— For example, you want to get the house during the divorce proceedings, but the lawyer asks for a car instead. 
A bad bargainer

— If the lawyer is soft-balling with the opposing side and not bargaining hard enough. This can be a big issue in a legal case, such as an accident, custody case, divorce proceedings, and more.
4 Steps to Take if a Lawyer Isn't Doing Their Job
Here are all options at your disposal if a personal injury lawyer isn't fighting for you or is showing professional negligence.
1. Have Realistic Expectations
To ensure a positive outcome, you should set clear expectations right from the start.
You can sign a contract with an attorney that will define the fees and the lawyer's availability.
For example, you can specify that you expect a lawyer to give you weekly updates regarding your case.
2. Contact Your Lawyer
Sending an email is one of the most unobtrusive ways to get the lawyer's attention. If the attorney doesn't answer the email, someone from their office should.
You can also call the lawyer. This is a more direct way, and it can help you understand why they haven't done the things you expected them to.
Finally, you can write a letter to specify by what date you expect them to fulfill a certain legal matter.
3. File Complaints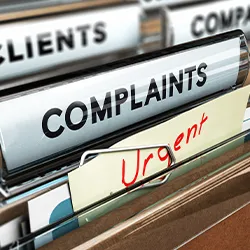 You should do this as a last resort. If an attorney doesn't show up to court or lies to you, you can report them to the regulatory board that governs the license.
The board can be a state or a country board.
After you file a complaint with the board, the attorney is investigated by a grievance committee, and their work and ethics are examined. 
4. Fire the Attorney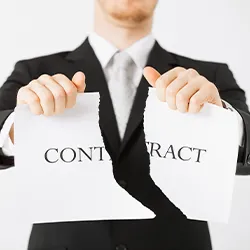 The client always has the right to fire an attorney. If you believe you can't resolve conflicts and the attorney isn't the right for your case, you can hire a new attorney.
Note: This can have downsides. Your new legal representative will have to get up to speed with your case quickly, which will cost you money.
Also, as it's time-consuming, it may cause delays.
3 Things to Look for in a Lawyer

Things you should look for in a good lawyer are [2]:
Open communication

— Good lawyers will answer your calls and always keep you updated. You should have your attorney's phone number and be able to reach them via email and other means of communication.

Track record and experience — Look for a law firm with years of experience. A proven track record of successful cases is also important. You can look for representation online. For example, check state bars and see past clients' testimonials. 
Values and honesty

— When you have the first interview with your new attorney, you'll be able to see their values and what kind of person they are. Choose attorneys that will keep your best interests at heart and lawyers whose values match yours. This can make all the difference in how successful your client-attorney relationship is.
FAQ
What is it called when a lawyer doesn't do his job?
When a lawyer doesn't do his job, it's called legal malpractice. This can include an attorney not showing up for jury trial, acting in their own interests, breaching the contract, and more. 
Hire a Lawyer from a Trustworthy Law Firm
Attorneys have to follow certain rules. If your lawyer is avoiding communication and not giving you good advice, you should ask yourself if the lawyer is fighting for you. However, to avoid this, be careful when first choosing a legal representative. 
Schmidt & Clark, LLP lawyers will go the extra mile for you. Our lawyers are experts in various legal fields and specialize in representing individual plaintiffs. 
Contact us for free consultations today, and put your case in the expert's hands.
---
References:
1.https://www.courts.wa.gov/court_rules/?fa=court_rules.rules
2.https://www.americanbar.org/groups/professional_responsibility/publications