Free Consultation
If you or a loved one think you may have a claim, you should contact a personal injury lawyer immediately.
You may be entitled to recover compensation and our legal team can help. Please click the button below for a Free Consultation or call us toll-free 24 hrs/day for legal advice by dialing (866) 588-0600.
Blindness and vision loss often result in severe disability and are linked with a substantial financial burden, a lower quality of life, concurrent medical conditions, and mental health issues. 
In spite of the fact that most cases of vision loss are not a consequence of medical negligence, there are still too many cases serving from medical mistakes.
If you or a loved one suffer from loss of vision caused by a medical error, we want to help. At Schmidt & Clark, LLP, experienced medical malpractice attorneys handle such cases. 
Quick Summary
Permanent blindness can occur due to missed or delayed diagnoses and bacterial infections caused by unclean medical tools or lacking hygiene.

If you or a loved one have endured vision loss after an operation, you may be eligible to seek compensation to cover both physical and emotional damages.

Medical records, proof of medical negligence, and proof that damages resulted from the said injury are necessary for filing a medical malpractice claim.
What Are Surgical Errors Resulting in Blindness?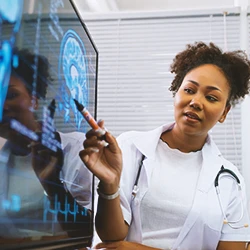 The surgical errors resulting in blindness include missed or delayed diagnoses, bacterial infections caused by unsterilized equipment, or unwashed hands. 
Vision loss among patients can also be brought on by failure to control high-risk individuals like premature babies.
Unfortunately, like other body parts, human eye tissue cannot regenerate, so any damage is very likely to be permanent [1].
Age-related macular degeneration (AMD) is an incurable condition, yet one that can become far less severe with timely treatment. Catching the disorder early on could help prevent complete vision loss for countless aging adults. 
Unfortunately, a recent study conducted by JAMA Ophthalmology revealed that nearly 1 in 4 cases of this devastating disease are not being identified, even at primary eye care clinics [2]. 
Other examples of conditions that even the most experienced treating physicians can sometimes fail to diagnose are cataracts and ischemic optic neuropathy (ION).
When left unchecked, these often silent but devastating illnesses can lead to lifelong complications, such as permanent vision loss [3].
Related Article: Eye Surgery Malpractice Claim
Failure to Screen for Retinopathy
Premature infants with a low birth weight can be at risk of retinopathy of prematurity (ROP).
To ensure that their vision is protected from abnormal growth patterns, which could lead to potential blindness, medical professionals recommend screening children under 32 weeks of gestational age or less than 1501 g of birth weight [4].
Fortunately, the process is relatively non-intrusive and will verify if blood vessels in the retina are following normal development pathways or require corrective action. 
Early detection through this simple procedure helps give babies a chance at optimal eye health.
Failure to Catch Diagnose Detached Retina
Some individuals' vision can be at risk due to detached retinas. As we age, the shrinking of the vitreous (the gel-like substance that fills our eyes) sometimes pulls too hard on the retina and causes vision loss. 
An early diagnosis of a retina detachment (before the detachment involves the macula) is key. However, a study revealed that it is the most frequently misdiagnosed ophthalmic condition [5].
Failure to Catch Intracranial Pressure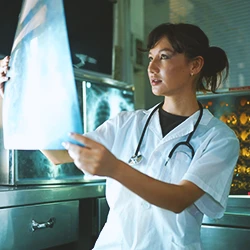 The failure to diagnose increased intracranial pressure (ICP) can cause severe health risks. 
From blindness, permanent brain damage, long-term coma, and even death, this medical issue must not go unnoticed for it to be managed successfully [6].
Acting quickly to address pressure on your brain can lead to a better outcome. Opting for the use of sophisticated intracranial monitoring devices may be especially beneficial if you have experienced a traumatic head injury and want to reduce increased ICP [7].
Cataract Surgery Malpractice
An eye doctor must exercise extreme caution when conducting a cataract surgical procedure. If the probe or irrigation/aspiration handpiece is removed carefully from a patient's anterior chamber, the vitreous can prolapse and lead to blindness [8]. 
Inadequate monitoring of anesthesia or sedation during this procedure is another issue that might result in blindness and vision loss [9].
Related Articles:
See all related medical malpractice cases our attorneys have covered.
Steps to File a Malpractice Lawsuit

If you are experiencing post-operative vision loss, you may pursue a settlement for losses such as medical bills. 
First,  it is necessary to evaluate medical records relevant to your situation. The evaluation should include information such as the type of treatment provided and possible failures that could have directly caused the injury

.

Second, you must prove that the doctor (or facility) caused your injury. Other medical professionals should examine the evidence and help determine whether the doctors failed to meet the standard of proper medical care and whether the failure caused your loss of vision

.

Lastly, you must prove that you suffered damages as a result of your injury and gather evidence to support your medical malpractice claims, such as medical bills

.
How Can Medical Malpractice Lawyers Help Me?
Medical malpractice lawyers can help you by gathering evidence to prove the doctor's negligence. 
Finding a medical malpractice lawyer can be critical in obtaining the compensation you deserve. Your legal professional will work to establish the physician's failure of their standard of care.
This can be achieved through reviewing your medical records, interviewing witnesses and other experts, and more.
FAQs
How Much Are Medical Malpractice Cases Worth?
Medical malpractice cases could be worth around $300.000, but their values will vary depending on the specifics of the case. Numerous factors come into play when determining how much you can receive from such claims, including the complexity of your medical condition.
How Long Do I Have to File a Lawsuit for Blindness and Vision Loss Malpractice?
You have two years from the date of negligent medical treatment to file a lawsuit for blindness and vision loss malpractice. 
Consult With Our Medical Malpractice Attorney Today
To file a medical malpractice lawsuit, you must prepare your medical records, prove that the medical professional caused your injury, and prove that you suffered damages as a result of the said injury. 
At Schmidt & Clark, LLP law firm, we are committed to standing up for victims of medical errors and seeking compensation on their behalf. Our team is highly experienced in identifying negligence that can cause long-term injuries such as blindness. 
If you think you may be a victim of medical error or neglect, don't hesitate to reach out; your initial consultation is free and could give you the answers needed for justice.
---
References:
https://newsroom.uw.edu/story/restoring-sight-can-retina-be-regenerated

https://jamanetwork.com/journals/jamaophthalmology/fullarticle/2621881

https://misuse.ncbi.nlm.nih.gov/error/abuse.shtml

https://www.eyenews.uk.com/education/top-tips/post/the-screening-and-treatment-of-retinopathy-of-prematurity

https://www.aao.org/eyenet/article/malpractice-risk-retinal-detachments

https://www.intechopen.com/chapters/58504

https://misuse.ncbi.nlm.nih.gov/error/abuse.shtml

https://www.nature.com/articles/eye200822

https://www.ncbi.nlm.nih.gov/pmc/articles/PMC8431820/