Free Bard PowerPort Lawsuit Review
If you or a loved one has suffered from a catheter migration injury or other serious injuries caused by a defective implanted Port Device, you should contact a Bard PowerPort Device Lawyer at Schmidt & Clark, LLP, immediately for a free consultation.
Bard PowerPort Catheter victims may be entitled to compensation by filing a Bard PowerPort Lawsuit and a Bard PowerPort Injury Lawyer can help. Please click the button below for a Free Confidential Personal Injury Case Evaluation or call our Bard PowerPort Injury Lawyers toll-free 24 hrs/day by dialing (866) 588-0600.
Update: PowerPort Injury Lawsuit Filed in New Jersey
A recent lawsuit [1] filed in the U.S. District Court for the District of New Jersey alleges that a defective polymer design used with the Bard implanted port increases the risk of catheter bloodstream infections, dangerous blood clots, and punctured blood vessels.
According to the lawsuit, Plaintiff Mary Nelk suffered a PowerPort injury from a Bard PowerPort ClearVue Implanted Port Catheter after she was implanted with the device in Feb 2021 so she could receive nutrient treatments for her Crohn's disease.
Just days after she received the port catheter, Nelk was hospitalized after developing pain in her large central veins, a hematoma and a high fever, according to the lawsuit.
She was subsequently diagnosed with a bloodstream infection, and doctors also discovered the Bard PowerPort was no longer functioning.
As a result of these problems, Nelk claims she has required multiple hospital admissions for infections, and has been left with severe and permanent injuries.
"Rather than alter the design of the PowerPort to make it safer or adequately warn physicians of the dangers associated with the PowerPort, Defendants continued to actively and aggressively market the PowerPort as safe, despite their knowledge of numerous reports of thromboembolism and other serious injuries," the complaint states.
Nelk's lawsuit brings claims of negligence, failure to warn, manufacturing defect, design defect, breach of warranty, fraudulent concealment, as well as violations of the Missouri Merchandising Practices Act and the New Jersey Consumer Fraud Act. Plaintiff is seeking both compensatory and punitive damages.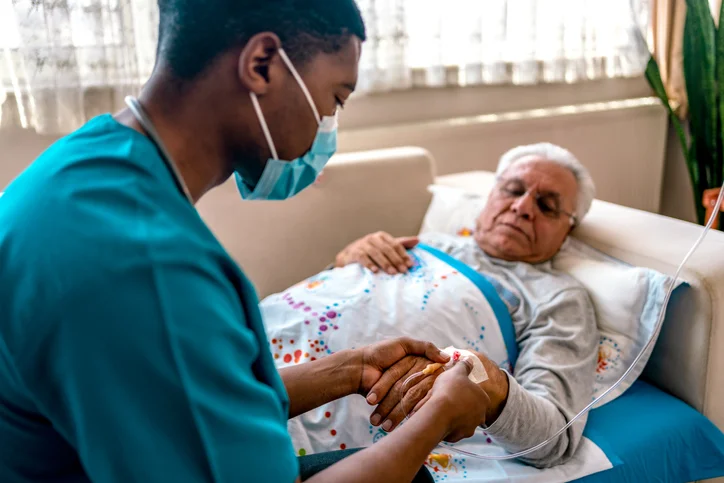 What is the Bard Implanted Port Device?
The Bard PowerPort injection port is a small medical device that makes it easier and faster for doctors and nurses to give medications, intravenous drips, nutrients, and other treatments such as chemotherapy that require rapid injection into the patient's bloodstream and body's immune cells.
The implantable port has 1 or 2 small basins that are sealed with a soft silicone top, called a septum. The port-a-cath is placed by medical professionals under the skin of the chest or arm into the patient's vascular system.
What's the Problem?
A port and a silicone catheter are inserted directly into the vascular system as part of the Bard PowerPort implant. In some cases, the silicone parts break down in the body because the device is unable to withstand higher injection pressure.
Broken pieces of catheter and implant can then move through the patient's vascular system. These broken silicone pieces can cause catheter infection, catheter fracture, and other serious injuries and illnesses.
Bard PowerPort lawsuits filed in district court alleging that medical device manufacturer Bard Access Systems Inc. failed to protect patients by not adequately warning the public and medical community about the risks linked to the PowerPort device, and that the company knew or should have known about the higher risk of port-a-cat complications.
Additionally, the complaints allege that Bard could have used a safer alternative material for a normal port that would not have deteriorated in the body and prevented many catheter fractures, life-threatening injuries, and deaths.
Related Articles:
See all related defective medical device lawsuits our lawyers have covered.
Bard PowerPort Complications
Serious complications linked to the Bard PowerPort Catheter include:
Catheter fracture
Dislodged catheter
Catheter leakage
Catheter migration
Severe infections (sepsis, sepsis shock)
Cardiac Punctures
Thrombosis
Hematoma
Pulmonary Embolism
Arrhythmia
Cardiac / pericardial Tamponade
Blood Clots
Bard PowerPort Infections
The Need for Emergency Surgery
Death
Other serious injuries
Lawsuit Alleges Bard PowerPort Failure Caused Circulatory System Blood Clots
A Missouri woman has filed a product liability lawsuit against Becton Dickinson and its C.R. Bard subsidiaries, alleging that the companies sold a defective and unreasonably dangerous implantable catheter port device.
The complaint [2] was filed in February 2023 on behalf of Plaintiff Patrice Terry in the U.S. District Court for the Western District of Missouri, indicating that the defendants failed to warn patients about the risk of complications with the Bard PowerPort ClearVue Implantable Port.
According to the lawsuit, Terry received a Bard PowerPort in her right internal jugular vein in March 2022, in order to provide easy catheter access for the delivery of chemotherapy drugs she required to treat colon cancer.
Unfortunately, less than a month after being implanted with the device, Terry was hospitalized for neck pain and swelling, the complaint states.
It was subsequently determined that Terry had developed a deep vein thrombosis, or DVT, in her neck, which resulted from a Bard PowerPort failure, as it was discovered that the port device had malfunctioned.
As a result of these problems, Terry was forced to undergo major invasive surgery, and now faces an increased risk of DVT in the future, as well as severe and permanent injuries, according to the lawsuit.
Terry contends that the medical device manufacturers knew or should have known about the problems with the catheter tube following numerous adverse event reports over the years, but the companies still failed to change its design or include new label warnings.
"At all times relevant to this action, Defendants knew and had reason to know, that the PowerPort was not safe for the patients for whom they were prescribed and implanted, because once implanted the device was prone to surface degradation and resulting thromboembolism, infection, mechanical failure, and a variety of other complications," the complaint states.
Medical Device Manufacturer Response
When Bard learned about the potential health risks associated with its PowerPort, the company took no action to protect patients.
Bard said that any problems caused by the catheter port were due to physician error, gross negligence, and mistakes made by healthcare providers.
The company has steadfastly refused to change their PowerPort devices to make them safer.
What Are Bard PowerPort Lawsuits Alleging?
Defective Bard PowerPort implants must be remedied quickly and aggressively to protect patients from further life-threatening injury or illness.
In regards to complaints against the PowerPort fractured catheter, a court has already allowed a lawsuit to proceed where the suit alleged that Bard showed negligence and deception in the marketing and sale of its catheter port.
Our law firm believes that large corporations must be held accountable for the safety of their products for consumer and patient use.
Get a Free Bard PowerPort Injury Lawsuit Evaluation With Our Law Firm
The Implanted Port Device Litigation Group at our law firm is an experienced team of trial lawyers that focus on the representation of plaintiffs in Bard PowerPort Lawsuits.
We are handling individual litigation nationwide and currently accepting new Bard PowerPort Catheter cases in all 50 states.
Free Confidential Bard Access Systems Lawsuit Evaluation: If you or a loved one has been injured by Bard PowerPort Complications, you should contact a Catheter Infection Lawyer immediately for a free case evaluation.
You may be entitled to financial compensation for medical bills, legal fees, and punitive damages by filing a Bard PowerPort Catheter Lawsuit against Bard Access Systems Inc. and our legal team can help.