Free Elmiron Vision Loss Lawyer Review
If you or a loved one was injured after taking Elmiron to treat bladder conditions or interstitial cystitis, you should contact our Elmiron Lawyers in St. Louis immediately. You may be entitled to compensation by filing an Elmiron lawsuit against Janssen Pharmaceuticals and our Elmiron Lawsuit Lawyers can help.
Please click the button below for a Free Confidential Elmiron Lawsuit Evaluation or call our Personal Injury Elmiron Lawsuit Attorneys toll-free 24 hrs/day by dialing (866) 588-0600.
What is the Prescription Medication Elmiron?
Elmiron, or pentosan polysulfate sodium, is a weak blood thinner / pain reliever used to treat IC, a chronic condition also known as painful bladder syndrome or bladder pain syndrome that causes common symptoms including bladder pain and bladder pressure, as well as other symptoms. The most common side effects of Elmiron are hair loss, diarrhea and nausea. Headache, abdominal pain and upset stomach may also occur.
Since its release, it's estimated that hundreds of thousands of people have used the drug, according to HealthDay. Most people who use the drug are women, and the drug is most often used long-term. The FDA approved Elmiron in September 1996.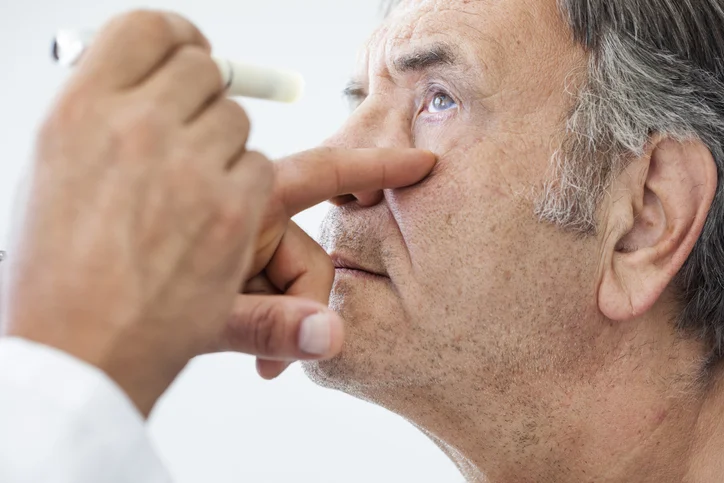 Elmiron Eye Disease
Several studies have linked Elmiron to a vision disorder called pigmentary maculopathy and other vision issues. Researchers have said this type of Elmiron eye damage only occurs in users of the medication. Elmiron eye maculopathy is a progressive disease that could lead to blindness, and there is no cure.
The most common visual symptoms of Elmiron eye damage are difficulty reading and difficulty adapting to dim lighting. Researchers found that PPS users who took more of the drug over a longer period had the worst eye damage and that damage could continue progressing into full-blown vision loss even after a patient stopped taking the medicine.
One of the most recent studies from November 2020 published in Retinal Cases and Brief Reports suggests that patients may develop Elmiron maculopathy years after stopping the drug.
Related Articles:
See all related dangerous drug litigations our attorneys have covered.
Interstitial Cystitis Prescription Drug Side Effects
Our Elmiron Lawyers are reviewing potential Elmiron Lawsuits for people who experienced the following types of personal injury after taking the drug:
Elmiron Eye injury
Elmiron Eye damage
Retinal damage
Retinal disease
Macular degeneration
Retinal maculopathy
Pigmentary maculopathy
Adult pattern macular dystrophy
Retinal pigmentary endothelium injury (RPE)
Elmiron vision loss
Vision problems
Vision damage
Permanent retinal injury
Blurred vision
Night blindness
Difficulty reading
Alopecia (hair loss)
Diarrhea
Nausea
Gastroesophageal reflux
Headache
Skin rash
Sleep disorders
And more
How Can an Elmiron Lawsuit Lawyer Help Me?
After more than 100 lawsuits were filed by product liability attorneys nationwide, the U.S. Judicial Panel on Multidistrict Litigation issued an order in December 2020 creating a multidistrict litigation (MDL) in the District of New Jersey to handle the claims.
There are now over 200 Elmiron lawsuits that have been filed in federal and state courts by experienced legal representation. It is expected that there will be numerous additional lawsuits filed given the number of individuals who took Elmiron and feel they and their legal team are owed compensation.
There is substantial evidence that damage resulting from Elmiron use may not develop instantly or even while an individual is using the drug. It is important to monitor your vision for symptoms after prolonged Elmiron use.
If you or a loved one have developed vision issues after using Elmiron, you are aware of the significant hardships and medical costs it can impose on yourself and a family member.
Individuals who have used Elmiron and developed Pigmentary Maculopathy can pursue a legal claim to recover damages based solely on their injuries, including medical bills, the cost of medical treatment, lost wages, pain and suffering, and loss of enjoyment of life.
The damages caused by Elmiron, including blindness, can be catastrophic. You should consult with Elmiron Attorneys for a free consultation to discuss the types of compensation you may be able to recover in a lawsuit.
Injured individuals also may be entitled to punitive damages, which are designed to punish a defendant for intentional or reckless conduct, including knowingly hiding risks associated with a prescription drug from prospective users. In a product liability lawsuit, this theory of liability is referred to as failure to warn.
However, there are certain time limitation requirements, known as the statute of limitations, for filing your claim and a claim can be barred forever if you do not file it in a timely manner.
Jannsen, Teva, and Johnson & Johnson have denied wrongdoing in these cases, but expert physicians and scientists have found links between Elmiron use and Pigmentary Maculopathy.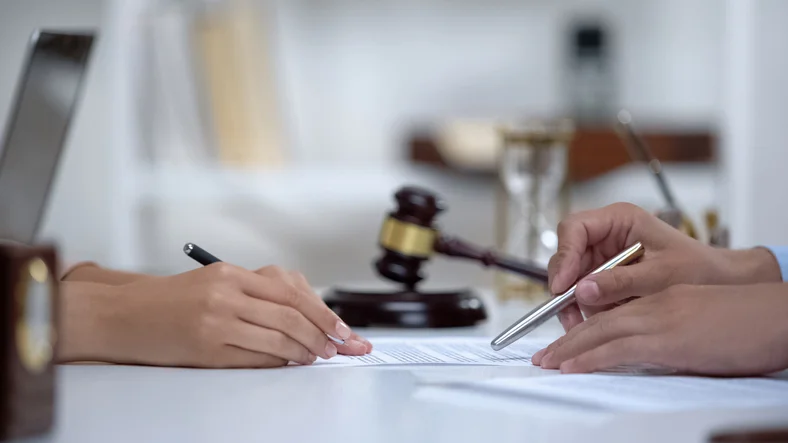 Get a Free Elmiron Lawsuit Evaluation With Our Elmiron Lawyers
The Medical Malpractice Litigation Group at our national law firm is an experienced team of dangerous drugs trial lawyers that focus on the representation of plaintiffs in Elmiron Eye Damage Lawsuits.
Our Dangerous Drug Lawyers are handling individual personal injury and product liability litigation against dangerous drug companies nationwide and currently accepting new Elmiron lawsuits in all 50 states.
Again, if you or a loved one suffered vision loss after taking the prescription medication Elmiron to treat interstitial cystitis, you should contact our Elmiron Attorneys immediately for a free case evaluation.
Elmiron victims may be entitled to seek compensation for medical bills / medical expenses and lost wages by filing an Elmiron lawsuit and our law firm can help with legal representation and formal legal advice.