Free Cook's Essentials Pressure Cooker Explosion Lawsuit Review
If you or a loved one had severe burns or other injuries caused by a faulty pressure cooker, you should contact our lawyers immediately about your potential case. Our law firm is actively investigating pressure cooker explosions in all 50 states.
Please click the button below for a Free Essentials Pressure Cooker Lawsuit Consultation or contact our lawyers toll-free 24 hrs/day by dialing (866) 588-0600 if you were injured or someone you know suffered an injury.
What is the Cook's Essentials Pressure Cooker?
Cook's Essentials and Technique pressure cookers are brand names sold exclusively through the QVC Shopping channel.  The cookers are re-branded from various manufacturers including Fagor, Deni, Cuizen, Maxi-Matic (aka Elite), and IC Marks Inc.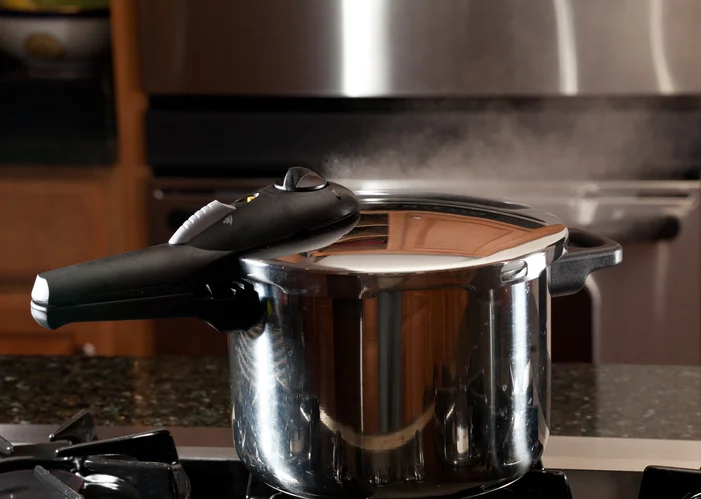 Injuries Occurred from Exploding Electric Pressure Cookers
Serious burns
Hot steam burns
Second-degree burns
Third-degree burns
Eye injuries and blindness
Traumatic brain injuries (concussion)
Scalds
Permanent scarring
Disfigurement
Emergency medical treatment
Kitchen and/or property damage
Illinois Woman Files Lawsuit After Pressure Cooker Exploded
A lawsuit has been filed by a woman who was severely burned by a Cook's Essentials Pressure Cooker she bought from QVC.
The lawsuit was filed by Theresa S., a woman from Illinois who was injured by a Cook's Essentials 6-Quart Electric Cooker (Model Number CEPC6005) on July 2, 2019.
Her injuries occurred due to the "pressure cooker's lid suddenly and unexpectedly exploding off the pressure cooker's pot," according to the lawsuit. The explosion caused its "scalding-hot contents to be forcefully ejected from the pressure cooker and onto the Plaintiff."
The consumer claims that the appliance is defective because the lid can be removed with normal force while the unit remains pressurized, despite the appearance that all of the pressure has been released.
Her pressure cooker lawsuit was filed against IC Marks Inc. and QVC Inc. (doing business as Cook's Essentials) on June 29, 2022 in the US. District Court for the Northern District of Illinois (Eastern Division) — Case Number 1-21-CV-03469.
Related Articles:
See all related product liability litigations our lawyers have covered.
Get a Free Cook's Essentials Pressure Cooker Lawsuit Evaluation With Our Lawyers
The Product Liability Litigation Group at our law firm is an experienced team of jury trial lawyers that focus on the representation of plaintiffs in Electric Pressure Cooker Lawsuits. We are handling individual litigation nationwide and currently representing consumers in all 50 states.
Free Confidential Defective Pressure Cooker Evaluation: Again, if you or a loved one suffered serious burns or other serious injuries caused by an exploding pressure cooker, you should contact our law firm immediately for a free review of your potential case. You may be entitled to recover damages and financial compensation for medical bills and lost wages by filing a pressure cooker explosion lawsuit and a lawyer can help.